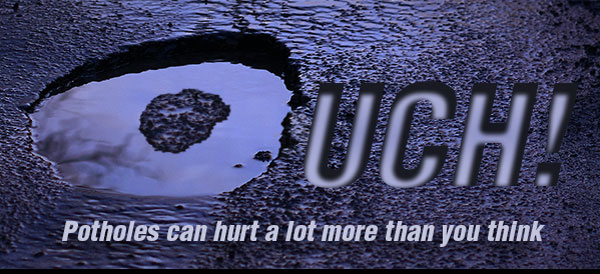 Jack,

If you hit a pothole or suspect pothole damage occurred – however minor it seems – bring your car in as soon as possible for inspection. That way, we can identify and correct the negative effects of pothole damage.
Some common issues seen from pothole damage:
Tire puncture, damage or wear
Wheel rim damage
Premature wear on shocks and struts
Suspension damage, including broken components
Steering system misalignment
Exhaust system damage
Engine damage
Let Jack Sherman Toyota help protect your car's valuable parts and avoid more expensive repairs.
Jack Sherman Toyota
393 Court St
Binghamton, NY 13904

(607) 724-1334

Service Hours:
Monday - Friday
Saturday



7:30 AM - 6:00 PM
8:00 AM - 4:00 PM


| | |
| --- | --- |
| | Follow us: |

This email was sent to:
Jack Schmidt at scottferris@jackshermantoyota.com.

This email was sent by Toyota 393 Court St Binghamton, NY 13904.

Not Interested? UNSUBSCRIBE
To ensure delivery of future emails please add service.servicecentral-email@dmea1.com to your safe senders list.

3420_TMS_Email_2_074430_v1_-1_248545

Sent on behalf of Jack Sherman Toyota by AutoPoint. ©2018 AutoPoint. All rights reserved.